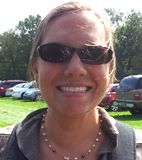 Little Miss Abilene is 1 week old today. I really can't believe that it has been an entire week already. She is a great baby with personality already. She loves her mama, papa and brothers very much and enjoys hanging out with us. She is pretty easy going until diaper changes or clothing changes. Not such a fan of those. She is sleeping well (as long as mommy avoids caffeine) and wakes about every 3 hours to eat. She is growing like a weed already! She barely fits anything newborn especially in the length.
We took her to her first pediatrician visit on Friday and her bilirubin test came back great! We were able to discontinue use of the bili-blanket but had to have another bilirubin test done on Saturday. We headed to Community South because they have a lab there that will do a STAT bili. We got the results of that test and she is doing great! Her levels are almost back to normal without the use of any lights!!! YEAH! She had gained some weight at her office visit. She was at 8 pounds 12.5 ounces. This girl does great with nursing:) She is a bit slower than her brothers when it comes to eating but she doesn't spit up like they did! So far so good!
We do believe she is allergic to disposable diapers or maybe it's the wipes. Either way we have a nasty case of diaper rash that causes even more distress than usual. We are now strictly cloth diapers and I am scrambling to get some cloth wipes. Poor baby. It is rather painful looking but I know she will heal up in no time.
And just a side note – I have lost 18 pounds in 7 days! Woohoo!
Anyway, enough of the words – on to the pictures!
So that has been our week:) I am so blessed to have such a beautiful family!