Bulletproof Mfg's Force Field Series FF1 Bumper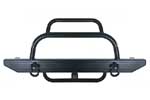 Like many Jeep owners out there, one of the first things I wanted to change on my Jeep was the front bumper. I wanted to change out the weak, lightweight-formed-steel factory bumper for something that would protect me while offroad, and look good while doing so. Among the candidates were the ARB Bull Bar, Bulletproof Manufacturing's FF1, and Trail Ready (no longer makes a TJ bumper). The reason I opted for the FF1 over the others has to do with the simple design. The Bull Bar was just too big for my taste and blocked too much air flow to the radiator, plus the bulk of it was made of formed sheet metal (albeit thick sheet metal) instead of 3/16" tubing. The Trail Ready bumper just didn't offer the protection I was looking for underneath, plus it was kind of hideous in appearance.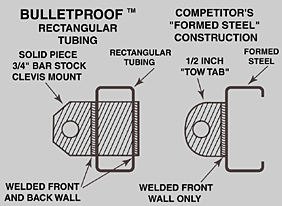 Instead of me putting down the other companies' bumpers let me stick to my reasons for choosing a "Bulletproof Bumper." My requirements, in order of importance (high to low), for a bumper were this:
Must offer protection for steering gearbox
Have sturdy clevis mounts for using D-rings
Made of 3/16" steel tube to match the Jeep's frame
Have provisions to add a winch mount
Narrow width to allow clear approach to trail obstacles
Ability to mount fog lights
A round tubular "hoop" for quick attaching of tow straps
After comparing my choices, the Bulletproof bumper was the only one that met all of the above requirements. Additionally, Bulletproof offers to make the bumper an air tank for my onboardair setup, and an integrated 2" receiver hitch making this the ultimate front bumper.
Parts List
Tool/Supply List
The Install
The install is beginner level and only requires a few basic hand tools. It took me about fifteen minutes to do this install. You remove the 4 T60 Torx bolts on top, 2 on the bottom and the old bumper comes off. Then just place the FF1 in where the old one was and re-install the bolts and torque them to 77 ft. lbs. On a side note, I found that if you have the factory front tow hooks you could reuse them! The only catch is that you need swap which side of the Jeep they were on previously. This is due to the fact that the hooks are slightly off-center when looking at them from above and if mounted in the factory configuration the hoop of the bumper blocks the hooks. (Click on the picture below and you can see the OEM hooks)
My Opinion?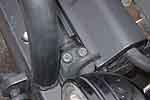 For the skeptics, you can't beat Bulletproof's "You break it, We bought it!" guarantee. That's right, if you bend or break their bumper they will replace it for FREE. After four years of abusing this bumper on the trail, it still has not so much as a tiny dent in it. Many times I have nearly stood my Jeep on it's front-end on a boulder and the bottom hoop saved me from steering gearbox damage (and perhaps a rollover?). The top hoops I have used to attach tow straps to for making a 'tent city' during camping, and tied my hammock to it. The locations of the 11,000-pound rated D-rings are perfect and they have proven to be lifesavers. They are very strong, but as with any time you are towing/yanking use care to not jerk the cable too suddenly. Even the UV-resistant powder-coating finish has held up exceptionally well.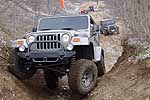 The two pairs of fog light mounting tabs I had installed are in perfect locations and work great for my pair of 150W KC Daylighters. I am not sure if I will ever install a second set of fog lights, but at least I have the provision to do so if I want to. I purchased the winch mount plate with the FF1. Unfortunately the mounting plate currently sits alone in my garage until I get a winch. Another great feature of this bumper that I have yet to use is the integrated air-tank that I upgraded to. There are three NPF-threaded holes, two on top and one on bottom. They come with red plastic plugs until you add your own onboardair system. I was told that the bumper 'air-tank' is approximately 2-gallons, which is about the size of tanks that other Jeepers are putting under their already cramped hoods. The bumper is plenty strong so there aren't any worries of it exploding under pressure.
The Bulletproof Mfg FF1 is a great addition to any Jeep. I highly recommend considering this model when you are bumper shopping. It's strength, quality of manufacture, practical design, and aesthetics are the best I have used.
---
Page created on 1/14/2005
Last updated on 6/10/2005