Aaron's Jeep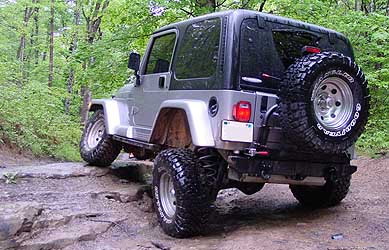 Like many other Jeepers, I'm always working on more modifications (mods) & upgrades. I have my mods broken down into categories (armor, drivetrain, etc...). In each category I have the mods listed chronologically in the order in which they were installed. By clicking on the mod name or the accompanying photo you will be linked to my writeup of the mod, which also has pictures, opinions, links on where to buy, etc. I have many more writeups to complete, I am currently trying to find a way to get more time to work on them. Email me if you have any questions.
Categories
All scanned instruction manuals available for download are in PDF file format. To read this format you will need Adobe Reader installed. Click the Abode logo below to download Adobe for free.

Disclaimer/Note/Warning:
All information is correct to the best of my research, memory, and knowledge. I cannot be responsible for any errors or omissions, always use good judgment and follow proper shop safety guidelines.
Modifications/Upgrades
Armor & Skidplates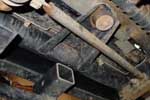 M.O.R.E. Steering Brace
Installed 6/2/2001 - This M.O.R.E. steering brace is one of my first "mods" for my TJ. I placed the order the same day my new TJ was delivered from the factory. It was: 1. a cheap mod, 2. something I knew I would eventually need, 3. it looks cool. To further describe why you too should put one of these braces on your Jeep, here are the real reasons. These braces...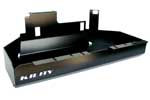 Kilby Gas Tank Skidplate
Installed 7/21/2001 - I ordered my Kilby gas tank skidplate 2 days after I bought my Jeep. At the time, Brad Kilby was only offering these in raw steel, no powder-coating or paint option like they are now. They were on backorder, so I didn't get to install the skidplate until 2 months & 4,200 miles later. When I received the skidplate I wiped it down with acetone to remove...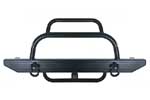 Bulletproof Mfg's Force Field Series FF1 Bumper
Installed 8/8/2001 - Like many Jeep owners out there, one of the first things I wanted to change on my Jeep was the front bumper. I wanted to change out the weak, lightweight-formed-steel factory bumper for something that would protect me while offroad, and look good while doing so. Among the candidates were the ARB Bull Bar, Bulletproof Manufacturing's FF1, and Trail...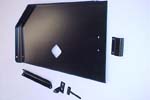 Skid Row Engine Skidplate
Installed 1/5/2002 - I bought this skidplate out of the fear of smashing my oil pan on a rock when on the trail. Since I'd already seen at least 2 of my friends ruin their oil pan (fortunately no leaks on the trail) this fear was quite justifiable. As you can see in the photo at right, this skid has a diamond-shaped hole cut for draining your engine oil through...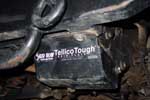 Skid Row Steering Box Skidplate
Installed 1/5/2002 - I bought this skidplate at the same time I bought my engine skidplate. Since TJ's have a very exposed steering gearbox unlike their leaf-sprung ancestors, I thought it would be a great idea to add some protection before I ruined my gearbox on a rock. As you can see in the photo at right, this skid is beefy and has a 3-bolt installation...
33 Engineering High Clearance Transfer Case Skidplate
Installed 3/29/2003 - It only takes one trip out to the trails in your Jeep to figure out that the stock transfer case skid plate (aka tcase skid) is the Achilles of your Jeep's ground clearance. On a trail with high boulders, lots of steep climbs with quick breakovers, and/or large fallen trees the tcase skid will constantly be dragging/scraping (which...
---
Body & Chassis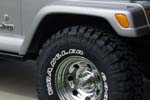 Warn 6" Trail Flares
Installed 10/4/2003 - I installed these flares the same day I put on my new 33" Goodyear MT/Rs. I wanted to make sure that I did not have to go without flares covering the tires. It's not that my state requires "complete tire coverage" like some nasty places. I didn't want to get rainwater, rocks and mud flipped up as I drove, nor did I want to rub the tires on the...



---
Drivetrain (axles, engine, exhaust, transfer case, transmission)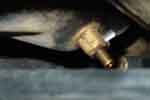 Fumoto Valve
Installed 11/23/2001 - I bought & installed my Fumoto Valve at the same time as my engine skidplate. I opted for Fumoto part number F101N, the "N" stands for nipple. This nipple is so that a hose can be attached to allow draining cleanly to a drainpan in remote location (or to prevent draining oil all over your skidplate). I suggest using the "N" version, as it will assure a...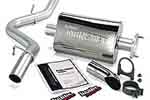 Banks Power Monster Exhaust System
Installed 3/29/2003 - I went out on a limb when I made this purchase; Banks just came out with this kit just weeks before my buying it, and there was little or no word on the street what the kit was like. I have been a big Flowmaster and Borla fan, but I am definitely aware of Banks' reputation when it comes to making systems for Ford and Chevy trucks (Banks is...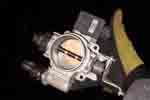 Jeepers & Creepers Bored Out Throttle Body
Installed 1/2/2004 - From what I can tell the main difference between the J&C and RE TBs is that RE's is red annodized and comes in a 62MM bore, whereas the J&C has a 60MM bore. Something important to point out is that for an extra charge J&C offers to bore their TB to 62MM if you want to. If you ask for it, J&C also offers something they call "flat...
---
Suspension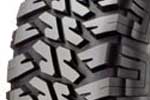 Various Tire & Wheel Reviews
Installed 3/8/2001 - Below you can read my reviews the different tires and wheels I have used on my Jeep. To date I have had 30" and 33" tires, both sets mounted on 15"×8" wheels. I am part of a large group of TJ owners whose Jeep came with the Canyon 30" Tire and Wheel Group from the factory. The factory tires are Goodyear Wrangler GSA 30"×9.50" in size. The Canyon...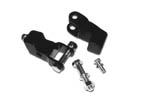 Teraflex Rear Shock Mounts
Installed 11/18/2001 - These new rear shock-mount relocators install into bottom factory shock mounting brackets. The purpose of installing these mounts is to help restore proper shock positioning. When you lift your Jeep more than 3-4 inches the rear pinion needs to be rotated. This can cause the bottom of the coil spring perch to be rotated to the point where it...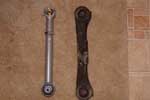 Adjustable Rear Upper Control Arms
Installed 4/5/2003 - When you lift your Jeep at least three or more inches (or install a raised tcase skid plate like I did), you will want to consider a way to adjust your rear axle pinion angle. When it comes down to adjusting the rear pinion angle, you have two choices: Degree Cam Bolts. Rubicon Express (RE) sells them for about $40 (p/n RE1475). Adjusta...
---
Cheap & Easy Modifications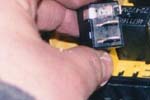 Fog Light Relay Conversion
Converted 2/23/2002 - If you have the factory fog lights in your TJ, you may have noticed that they will only work if your headlights are in low-beam only. To test this, while parked facing a wall at night, turn on your low-beams and your fog lights. Now switch to your high-beams. Your fog lights turned off didn't they? Well, there are situations I have...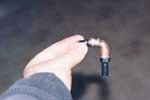 Waterproofing the NV3550 Transmission
Installed 10/14/2002 - Once upon a time, while crawling underneath my Jeep, I was snooping around the transmission and transfer case. On top of the transfer case (NP231J) I found a hose that ran up to the top of the bellhousing of the transmission (NV3550). This hose led to a breather vent on the transfer case. I began wondering if the...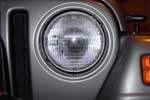 Painting the Headlight Trim Rings
Painted 9/25/2003 - Once you have them removed from the Jeep, take some sandpaper or steel wool and scuff up the smooth fake-chrome finish so that the new paint will maintain its cohesion. Take your surface prep chemical (i.e. acetone) and clean the surfaces of the trim rings. Once cleaned, refrain from touching them. Go ahead and apply the paint, wait until...
---
Future Plans
Future Parts Wanted:
Warn winch
Electric cooling fan
On board air compressor
4.11 ring & pinion gears
AiROCK 6" deluxe TJ lift kit
ARB Air Locker front & rear axles
Klune-V Extreme Underdrive System
Rubicon Express or Nth Degree Longarm Suspension Kit
Rocklights & 1 more pair of fog lights
Mean Green H.O. Alternator and Starter
Off-Road Fab. sport cage w/floor mounts
Off Your Rockers corner panels with HMMWV tail lights
Front Rubicon Dana 44 full-floating, 5 on 5.5" bolt pattern, w/manual hubs
Rear Currie High Pinion Ford 9" full-floating, Triang. Susp. 5 on 5.5" bolt pattern, & disc brakes
Future Projects:
Install Cobra 75WXST CB and Firestik II antenna
Fabricate custom mounting bracket for AMSOIL Bypass filtration system/24V Air Compressor
Install Kilby dual battery tray and 2 Optima batteries to run my Onboardair setup
Install Mean Green High Output Alternator and Starter
Install Onboardair
---
Page created on 1/22/2003
Last updated on 3/2/2006