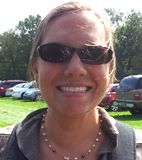 Yikes! Where does the time go? Abilene is 7 months today! She did have a visit to the pediatrician this morning for a vaccine but I asked the nurse to check her weight and they are always so kind to oblige. She weighed in around 19 pounds! Healthy baby girl! She is VERY long and wears 12 month clothing. She is a true joy to have in our lives. She is the most relaxed, laid back and easy going kiddo. She just rolls with the punches and only gets mad when she is hungry and/or super tired. She does have her particulars: like NOT taking a bottle or formula for that matter. She has forced mama to jump through NUMEROUS hoops to keep her supply but I have been off meds for just under a month now without any drop in supply levels! Yippee! Especially since the medication I was taking made me gain about 20 pounds. Yuck. Anyway, when she sleeps she never liked to lay down. So she slept in a reclined position (thank you nap nanny and rock n play). Whenever she feels kinda yucky, she wants back in that position. Once she is up, she is out!
Little Miss Abilene has now settled into a pretty good routine with sleep. She wakes around 9 am, goes down for her morning nap between 10:30 and 11 am, wakes again around noon-ish or so and hangs out until about 3:30p and crashes again anywhere from 45 minutes to 2 hours. She then is ready for night time sleep around 7 to 7:30 pm. Pretty regular schedule.
She absolutely LOVES to eat. Nursing is okay but FOOD (fruit to be precise) is her passion! She eats an entire packet (around 4 oz) of food 3 times a day! Plus her cereal and snacks! This little lady just gets so much enjoyment from her feeding times.
Abilene loves bath time. I did not have experience with a baby with hair and she has a ton of it. So this was a bit new to me. We have to actually dry her hair every night before bed! She loves it:) It is so cute to watch her watching herself in the mirror. She also loves her excersaucer and jumperoo. She has very strong legs and uses them every chance she gets.
Tummy time was not a fave of this gal's. So we didn't do much of it. She has really had NO interest in rolling. But she will go from tummy to back when she gets tired and will get on her side to get at toys.
Teething. Oh the joys (pain) of teething. We are pretty sure she has been experiencing some teething pain. Poor baby. It has been kinda rough but thankfully it comes and goes.
Abilene loves to chew/taste/manipulate/swing/bang/bat/grab/hold onto/smash just about anything within reach. It is so sweet to watch her interact with her brothers. She has the 2 best big brothers in the whole wide world (of course I am not biased or anything:)
Sitting: Ah yes, the "sitting" milestone. She does quite well in the highchair and in the bumbo but no, she is not sitting on her own. Not really her thing right now. She is quite content being waited on hand and foot.
Oh, I almost forgot, she is SUPER DUPER ticklish! I love it, daddy loves it, the boys love it and we exploit it frequently! And now without further ado, here she is!