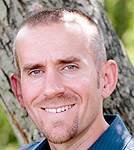 In November 2010, I was adding 5 yards of topsoil to my garden with my at the time 2yo Abraham. I had removed my wedding band and placed it in my pocket to avoid the ring getting damaged by the shovel/rake and also to avoid the inevitable pinching that the ring incurs when using garden tools. Sometime that day in my haste I pulled out my handkerchief and apparently with it flung my 14K gold wedding band into oblivion, never to be seen again. Later that day when I realized what had happened I searched my tracks and was totally unsuccessful. I was upset at myself and for two months went without a ring thinking I'd find it. Nope. I should point out that this ring has been through hell and back and never been lost. I've jumped many, many times out of airplanes with it; SCUBA dove with it; etc, etc. It always goes with me, and always comes back!
I eventually broke down and bought a replacement band, this time in Silver since a) it's my favorite metal b) it was $20 and c) I paid $50 for my original 14K gold band which at the time I went to replace it was $260!! Talk about putting salt on a wound!
I talked to my dad, a geologist, and asked if he had a metal detector anymore. He did, and he let me borrow it. Upon reading the instructions, I tried to use this thing and it was giving me false hits all over the place. As it turns out, this type of detector is for large ore bodies 10′ or more below the surface. Furthermore it gives false readings the more moisture there is in the ground. He had warned me of this when I borrowed it but said it was worth a shot. At this point I went online looking for high quality metal detectors that are designed for beach combers in search of jewelry and loot. They all cost more than the ring, so that would sort of be a lost cause there; sentimental value is only worth so much above sticker price! So I was left with either deal with the loss, or perhaps place an ad on craigslist for someone willing to come over and find it with the proper gear and possibly offer a reward. I wasn't ever comfortable with inviting a stranger from the internet over to my house to find gold, so I opted to deal with the loss.
Fast forward 2+ years to this past Weds when my parents were over celebrating my wife's birthday. My dad mentioned how my brother and his buddy Matt both have recently purchased very nice metal detectors and have found 90% silver half dollars and a few other small items worth some money. I told dad to pass the word along that I'd pay a $50 reward if they'd stop by and find it.
This afternoon, after having forgot about the conversation, my brother calls out of the blue and wondered if it was alright for him and his buddy to come down and give it a shot. I was glad and said sure, reminding him of the $50 bounty. They arrived a few minutes before 4pm and I got to business showing them my steps from that 11/2010 day (which were many since I'd made trips all over my 1/2 acre lot with a wheelbarrow. Worst case it was buried under about 8″ of topsoil in the garden, or had been flung even further by a lawnmower the last couple years. I followed around with some hand trowels, a garden shovel, etc and we dug perhaps half a dozen holes along the path that had some good hits but the only "loot" we found was a Pepsi can, a shredded Budweiser can, and a Red Bull can. All were 6″ or more below the surface, definitely not where a ring could have settled in such a short time.
Darkness was approaching, and I borrowed my wife's 18K gold and platinum diamond wedding ring so we could get a sample of a hit on it to know what to listen for. They had 2 different styles of metal detectors which helped a ton having different methods to screen out junk. The machines make different sounds depending on the metal type. Gold sort of sounded like a fart which was different than any other sound on the spectrum. I could tell the guys were getting tired and wanted to pack it up and sunset was maybe 45min away at this point. They began retracing the path beginning at the garden and working their way around the side of the house to the driveway. I was busy patching the holes we'd dug and playing catch up.
At this point my brother and Matt are stopped and talking along the side of the house, and I walk up and they have a hit and it sounded like a strong gold hit. They ask if it's possible this could be the spot. I thought it unlikely because I'd spent probably 99% of my day that day around the garden not at this place but nothing was impossible since I had walked through this spot a few times with the wheelbarrow that day. They wanted me to start digging, probably because this was about the last spot they were willing to re-search today and wanted to pack up and leave and I didn't blame them as the wind was brutal. I had them rescan for the exact spot and I went to work with a hand trowel. We sort of take a chunk of earth/sod out, scan it, if it still hits then you tear it apart into small bits. Much of the time the chunk scans clean and you have to dig another chunk up. Many times a chunk that hits would have nothing in it at all, but by this time in the day they had adjusted the squelch/filters up to hopefully prevent any false hits. So, anyway, I have them scan the first chunk and it still made the gold sound. So I removed my gloves and started obliterating this sod chunk and I'll be darned if right there about an inch below the surface, intertwined in the roots of the grass was my 14K gold ring from 1997!!! We couldn't believe it. It was maybe 6′ from my electric meter near some shrubs. For the most part the ring was in great condition. It was bent into sort of an oblong egg shape, but nothing a jeweler can't repair for probably $30 or so. No scratches or gouges at all!
So the reward was paid, the guys were pleased in their skill and equipment, and I was pleased to have my buried treasure back! A good day indeed.