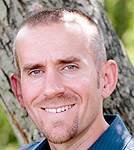 In late September in the first 1/10th of a mile of a 20 mile long run I stepped on a rather sharp pebble about 3/4″ in size that hurt the ball of my right foot but it felt better quickly so I kept running and went onto finish the best long run I've ever had. Upon sitting down to eat lunch afterward, my right foot started getting wicked sore so I iced it for 15min and it felt perfect. Case closed. Then a month later the same spot began hurting for no apparent reason. "Overtraining" I thought. I'd already forgotten about the pebble. I ended up going to see an ortho surgeon at the local foot/ankle center about two weeks before the race because I didn't want to run the race and make things worse. He said it was either the cartilage band around the base of the big toe, or the tendon that runs under there. Ice, Ibuprofen, and tape it and you'll be fine. So I did, and everything went great up to the race day.
Saturday 11/3 was the Indianapolis Monumental Marathon. I started the race and hung at the reserved and proper pace I was easily capable of for the first 16 or so miles. In fact, within a few seconds I was dead on target for my goal finish of 3:25:00.  Then I noticed my "good" foot, the left one, was really tightening up. Very rapidly things fell apart and by about the 16.5 mile mark of the race I sort of fell back from the pack I'd been with most of the race and took a really long walk break to try and flex the foot into feeling good again. I felt great and energetic otherwise. This happens sometimes in training, you just lose your steam for whatever reason (sore muscle, tired, mind wandering, etc) walk a little and you get back into it. No big deal. Except the more I walked, the more my left foot hurt. So I took turns running and walking, mostly walking. At this point I'm thinking about quitting. Except I refuse to do that, I trained very well this year to just give it up, I didn't feel that bad. Besides, it started sleeting and I wasn't really dressed to sit in drizzle while waiting for a few hours for the trailing "bus o shame" to pick up stragglers.
As I alluded to in my last post a few weeks ago I decided at this point to just make the most of the experience and put on a smile, be glad I am blessed enough to be running a doggone marathon, and finish the race as well as I could. I ended up mostly walking the last 10 miles with a tad of running tossed in for pride's sake and to try and keep warm. Nothing like freezing to motivate you! I finished the race in a time respected by many runners as desirable but for me it was defeat.
So, time to fess up. As it turns out I fractured my left foot in the marathon. I see you out there. This is where you non-runners secretly gloat about how pointless running is and exclaim how it just begs to break and damage the body. Not so fast!! Because if running is done correctly it doesn't hurt you, it makes you stronger not weaker! The arch ache ended after the race, but a pain in my heel picked up the next day and wouldn't go away for a few days. Marathon +5 days I went for a short 20min run to loosen up and see how things were and the heel pain came back full force and then some. I felt perfect except the left foot. The sharp pebble bruise on the other foot was fine by this point and never did bother me during the marathon or since.
I immediately called the ortho doctor's office and got in the next Monday. An X-ray discovered an avulsion fracture of the plantar side of my cuboid bone. An avulsion fracture is where a soft tissue like a tendon/ligament/cartilage so fiercely pulls at an anchor point on a bone that the bone peels/splinters off. It was small but bad enough to stop me from even walking without a crutch that we had in the closet. Fortunately my Doctor is not what I'd call a hypochondriac. In fact he's so nonchalant in a positive way that he makes you feel like it's no big deal. His best case scenario was that I'd be able to get back to running in a week or two but I needed to chill out in the mean time. Ibuprofen, ice, rest; same old stuff. No cast or braces needed, just take it easy. The bad news is the fracture will never heal. The bone fragment will be loose for the rest of my days. The good news is it shouldn't bother me, freaky huh?!
So my follow up appointment was Tuesday 11/27 and though I ran a little bit last week and the pain subsided, the good news is I've been released and declared good enough to get back to normal life. He agreed that what likely happened is after the pebble bruise from September, my healthy foot subconsciously started doing most of the work in walking, playing, running, etc. That led to the left foot being overtired and during the marathon it just said enough is enough and fractured. So you now see the great news is that had I not stepped on that stupid rock all would be well. It wasn't overtraining, overexertion, or just the simple act of running that caused the fracture.
On a side note, the Doc noticed in the X ray of the fractured left foot that I have an extra bone in my foot on the inner side of my foot below the ankle. It is about the size and shape of a kidney bean. A review of an older X ray of my other foot shows the same bone there too. So, I have 2 extra bones in my body. Weird! Apparently about 20% of the population have this extra bone. I asked the Doc if it will somehow make me have superhuman powers or anything and he crushed my hopes and said it actually makes me prone to having a certain type of tendinitis. Oh well.
During all of this my family and friends have been praying for my foot to heal swiftly and I'm grateful. The boys took it pretty hard though. The first night after the news of the fracture, Abel asked me to give him his nightly shoulder ride which ends with me plopping him in a heap on his bed. I said, "I'm sorry dude but my foot is broken, so I can't give you a shoulder ride until it heals." He was destroyed. While crying he just looks at my foot and accusingly says,"No shoulder ride?" and takes my hand to be dragged off to bed. Every night since then he has asked if tonight was the night for a shoulder ride. Tonight, I was able to say "YES!"