Late Notice: June 1, 2011 is National Running Day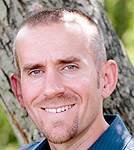 I chalked up 5 miles this morning, did you run on National Running Day 2011?
Maybe you've been wanting to and will make a commitment to? Running, other than quality shoes, is about the most affordable and simplest way to get and stay in shape. Plus it is a great way to get outdoors. I highly encourage it. I say skip expensive gym memberships and sell the useless home gym equipment, just get out and run.
Thanks to running I have a resting heart rate of 42; I've dropped 45 pounds (with still more lose); and I have a regular blood pressure of 95/65.