Update and prayer request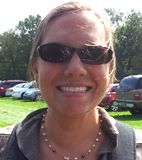 Abilene is 37 days old! She had her "1 month" appointment today. She weighs in at 11 pounds 2.5 ounces. She is 22 inches long (not 100% sure as I didn't get to see the measurement). Her head is 16 inches in circumference! She is one big girl:)
All went well. We have had some concern over her breathing ever since she was born. She pants. Also, her chest cavity just doesn't look right. We mentioned this at her 2-week appointment but all was considered normal. Well, it hasn't stopped. She still pants. The nurse and doc were able to see it today and ordered a chest x-ray just to be sure. They called me tonight at 6:15 pm to let me know that a radiologist from Riley had reviewed her x-rays and they have determined she has low lung volumes. She is not fully inflating her lungs. Not sure why but that is causing the panting. We will be seeing a pulmonologist ASAP. Please pray that we are able to get answers quickly and are able to help her to live a full life. We don't want her to be restricted in her activities due to her breathing. Please pray for peace for Aaron and me as we make decisions and go to the doctor appointments in the midst of us moving 700 miles away from home.
We have had lots of visitors since my last post. Abilene got to meet her Great Grandpa Shinkle and Mary, Great Aunt Connie and Great Uncle Robert, attend her first wedding and meet her Great Aunt Brenda and Great Uncle Jerry and Great Grandma Fern! Abilene also got to travel outside Indiana before she was 4 weeks old! She also got to meet her Uncle Adam and celebrate her Grandpa Daniel's birthday:)
Anyway, here are some cute pictures! **No, I haven't forgotten the boys, this post is just for my beans (aka Abilene).
Uber side note*** I have started riding again! Yeah!! I have 19.5 miles under my belt since returning to riding on Monday:) It is awesome! I can't believe how much I have missed it. It would have been a year in September since my last ride. Craziness. I look forward to riding out in Oklahoma:) Also, I am 2 pounds LIGHTER than my lowest ever (besides being a kid) and I am well below my starting weight from Abilene's pregnancy! I am within 3 pounds of saying I have lost 85 pounds! Woohoo! Thank you Jesus!