Jack "Guru Jakk" Longacre
January 8, 1938 - October 15, 2002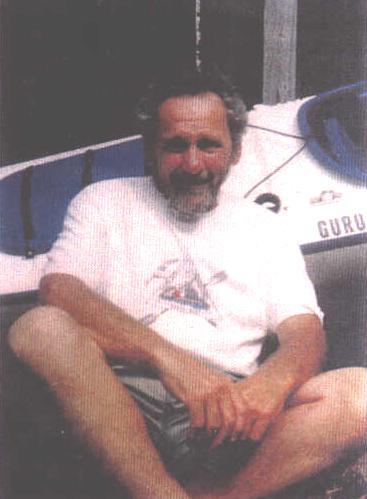 Memorial Recollections
The Kentucky ash spreading memorial ceremony was held on Saturday, April 26th, 2003 at 2pm local Kentucky time. The following is our recorded memories of how Jack was laid to final rest on the Kentucky Highpoint.
This story begins on a cool, stormy Friday night. Anna & I both left work later than we had anticipated, thus pushing our arrival at the Bed & Breakfast back to around 10pm local time. We got on the road about 5:30pm EST and immediately were swamped by lateral-moving rain and heavy winds; both are bad conditions when driving a brick-shaped Jeep like ours.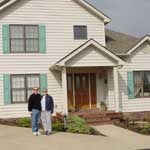 We stopped into O'Charley's for a brief dinner and, unbeknownst to us, the 1901 S. Hurstborne Lane, Louisville, Kentucky location was the prime spot for local prom kids to go for dinner on this very night; so we opted for seating in the smokey bar area. The rain died down while we were at dinner making the rest of the evening's trip more manageable.
We arrived at Riverhill Bed & Breakfast (pictured at left) around 10:30pm Kentucky time. We were shown our wonderful room and then we crashed hard into bed for the night. The 26th started off nice and sunny with a spectacular breakfast and we met a couple that had once climbed Mt. Rainier. This was followed by quickly packing and hitting the road at 10am.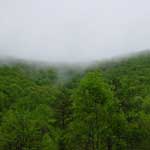 The drive from Richmond to Lynch was about 3.5 hours and we covered some gorgeous countryside. A peculiar fog was eerily wedged into the foothills of the Smokeys everywhere that we traveled; the rains also continued.
The fog set the mood for the day: gloomy, somber. We knew that Jack wouldn't have wanted it this way, so we fired up my self-mixed "Hill Billy Hits" CD to cheer us up. Also contributing to the mood were the facts that I had no idea how many people were going to be at the memorial, nor had I ever done a memorial before. Jack told me not to worry.
During a short leg-stretch break at a gas station in -?-, KY our extra passenger (Jack) hinted that a prudent Highpointer would get out the atlas & Highpoint logbook to ensure we were still on the proper route. Below you can see co-navigator Jack helping out.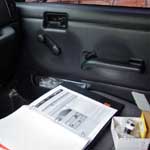 With it now being noon, and the route slightly diverted due to toll road closure, we were now pressed for time. After the little break we drove through the town of Harlan and I saw my first ever "Live Bait" vending machine right next to town hall. At 1:50pm we made it to the neat little Highpoint town of Lynch, Kentucky. We made a note to stop at the Coal Museum if we had time on the way back.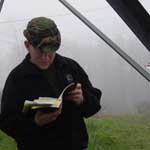 The ascent up the mountain from Lynch was very unique as the sun's luminescence became greater as the fog became THICKER. It was quite a peaceful and spiritual journey for all involved.
At approximately 2pm we hit the entrance to the Black Mountain facility (tiny paved road on the right-hand side of State Highway 160). We had our "permission slips" on hand in case we needed them to enter, but as on previous trips to this mountain, there wasn't a soul to be seen.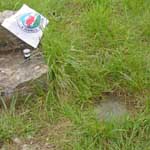 There were, however, fresh vehicle tracks in the gravel muck, so we figured we had just missed someone (hopefully not another Highpointer!). We hung around this entrance for 5 minutes to see if anyone else was going to show up for the memorial; nobody came.
So, by ourselves, Anna, Jack and I made Jack's final ascent to the Black Mountain Highpoint. Everything was completely still in the forest; no birds, flora or fauna showed any sign of life. It was perhaps out of respect for Jack, who loved this very countryside so dearly. After about 12 minutes lo and behold sat the FAA tower. There were two vehicles parked at the facility, and the gate was open. With no sign of people, we continued the trek to the summit.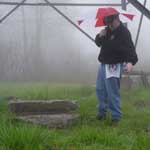 Upon reaching the small gated trail to the summit, the rain began to pick up. The air was noticeably chillier when we got out with our umbrellas. Without further complication, we dismounted our Jeep and made the three minute hike to the highpoint marker. With us we brought:
A Bible (KJV)
2 Umbrellas
Camera with tripod
Highpointers Club Pennant
Once at the notorious fire tower/HP marker, we had a moment of silence for Jack. During the silence the rain halted to a slight drizzle.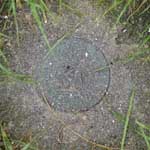 Now we were aware that Jack was not a Christian, but seeing how both Anna and I are Christians, the service I had planned was leaning towards our Christian influence. I spoke of my very slight encounter with Jack (actually it was his answering machine), the life he led, and those he affected. Anna stepped forward and offered a wonderful prayer for Jack. In preparation for laying Jack Longacre to final rest, I read from the book of 1 Corinthians Chapter 15 verses 50-58:
"Now this I say, brethren, that flesh and blood cannot inherit the kingdom of God; neither doth corruption inherit incorruption.
Behold, I show you a mystery; We shall not all sleep, but we shall all be changed,
In a moment, in the twinkling of an eye, at the last trump: for the trumpet shall sound, and the dead shall be raised incorruptible, and we shall be changed.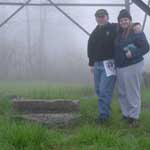 For this corruptible must put on incorruption, and this mortal must put on immortality.
So when this corruptible shall have put on incorruption, and this mortal shall have put on immortality, then shall be brought to pass the saying that is written, Death is swallowed up in victory.
O death, where is thy sting? O grave, where is thy victory?
The sting of death is sin; and the strength of sin is the law.
But thanks be to God, which giveth us the victory through our Lord Jesus Christ.
Therefore, my beloved brethren, be ye stedfast, unmoveable, always abounding in the work of the Lord, forasmuch as ye know that your labour is not in vain in the Lord."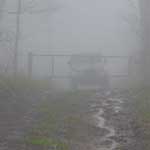 Following that, Jack was laid to eternal rest upon the U.S.G.S. marker.
Upon the returning of Mr. Longacre's earthly remains to the their home, Anna and I hugged knowing that Jack's pain is over and that he is in a much better place. We then captured the photo of us at the USGS marker so as to depict the comprisal of "Team Kentucky." We then quietly, yet happily, marched back to the Jeep and left.
The following week I received an email from Jerry Matto saying that he and his wife just missed us; who was there first is a mystery due to time zone differences.
I would like to personally thank Jean Trousdale for her selfless coordination of Jack's remains, and especially for Jack's personal "business" card shown below in which she gave me. It is a memento to remind me that life has its struggles, twists & turns...but no matter what, always Keep Klimbin!!!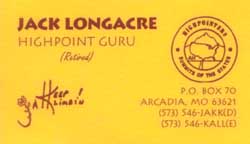 ---
Page created on 4/7/2003
Last updated on 2/19/2004