Anna's Jeep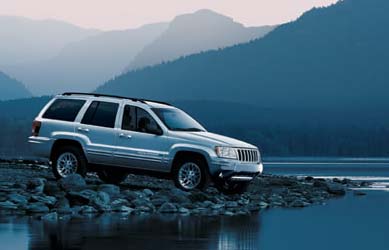 This is the section dedicated to getahelmet.com's second Jeep named Dubya, a 2004 WJ Grand Cherokee Limited. Email me if you have any questions. Everything you would want to know about it is found in the sections below.
Categories
All scanned instruction manuals available for download are in PDF file format. To read this format you will need Adobe Reader installed. Click the Abode logo below to download Adobe for free.

Disclaimer/Note/Warning:
All information is correct to the best of my research, memory, and knowledge. I cannot be responsible for any errors or omissions, always use good judgment and follow proper shop safety guidelines.
Specifications & Modifications
Our WJ's Story (hey,doesn't every Jeep have a story?)
---
Factory Specifications
Dubya's Build Sheet - Printout of our WJ's factory installed options. (211KB PDF file)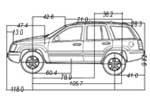 Dubya's Factory Specs
Built on 9/03/2003 - Just to help you get an idea on where the getahelmet 2004 WJ Grand Cherokee Limited started out, this page was created. Since we waited until late in the model year last year the WJ was made we were concerned that getting the WJ with every option we wanted would be difficult, if not impossible. Fortunately we were able to get every single...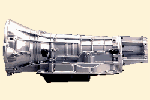 Jeep's 545RFE Automatic Transmission
The introduction of the completely redesigned 1999 WJ Grand Cherokee in June of 1998 was a much anticipated date for automotive enthusiasts. One of the major pieces of the redesign was the new five speed automatic transmission designated the 545RFE. This transmission was developed specifically with Jeeps in mind. This transmission was available...
---
Modifications/Upgrades
Unfortunately, none to report yet.
---
Future Plans
Brnasi Engineering's RamIT! Ram Air Induction kit, utilizing a K&N FIPK.
2" Budget Boost kit with longer Rancho 9000 shocks.
31" tires, hopefully Goodyear will begin making a 31" MT/R tire mountable on a 17" wheel.
Rocker protection. No brand preference yet, but preliminarily Kevin's Offroad bars are looking good.
Addco 1" Heavy Duty Rear Anti-Swaybar with greasable polyurethane bushings.
...I'm still searching for other WJ goodies. For the most part this WJ will remain stock because it has a really comfortable ride, which is the way Anna like it. She is excited to lift it a little and add some aggressive looking tires. The rocker protection will look cool too. In all but dire emergencies, this Jeep will be a street queen but it will be built to tackle difficult trails should it be needed to come haul the TJ out of a bad situation.
---
Page created on 10/1/2004
Last updated on 10/8/2004