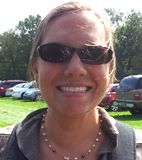 We are officially drawing the proverbial "line in the sand." We will have 1 final procedure for Abilene on Friday and should none of these tests prove anything, we are no longer going to pursue this "mystery" illness. Abilene is doing great and actually showing improvement! We are so blessed to have such a sweet and happy little girl. She is in no stress and we see no reason to continue to subject her or us to any more tests. We love her so much and we already feel robbed of some of her infancy that we do not wish to continue. It has been one crazy ride but we are officially done. We are leaving this (whatever it is) in God's hands. He is the great Healer – what more could we do?
Abilene's heart has been cleared. It is not the cause and/or contributing to her symptoms even though the Cardiologist would like to followup on her ASD when she is a year old. Fine.
Her CT scan showed collapse of her posterior lungs but it is far improved from her original CT scan. She may be outgrowing this? The pulmonologist is just as puzzled as we are. She is glad that Abilene is doing better but curious as to why her lungs look the way they do. So, we agreed to have her airway more closely examined via a scope on Friday. She will be sedated once again and submitted to this exam in the OR at Riley. Should this final test give us an actual diagnosis, then we will move forward with that. Otherwise, she is just a happy, sweet little girl who is growing and beating all the odds – so we will leave this alone.
Prayers for her continued healing would be greatly appreciated. It has been a trying time for all of us. I believe God has been leading us to this point for a reason…time to let go and give it to Him completely. Even in my daily devotional last night (just minutes after Aaron and I had this discussion) it talked about "doing the best you can but giving your kids to God." It doesn't get much clearer than that! I heard God's voice and now I am trying to obey.
Sorry for my lack of posts…life is…well, crazy to put it lightly. I have many things I wish to put on here for you all to read and understand where we have been over the past couple months. It has been an interesting road but I am tired and ready to SLOW DOWN.
– Be still and know that I am God. ~Psalm 46:10