Gluten-Free Friday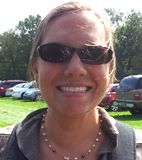 3 for 3…I think I might be on a roll!
Today is recipe day! Yep. I have gone gluten-free (since Mother's Day) and have really watched it. I would occasionally let wheat gluten or any glutamate slip into my diet and hated the end result. So gluten is COMPLETELY out and I feel great! Now finding recipes isn't really hard but the whole vegetarian part makes it a bit trickier.
Now I found this recipe about a month ago and I eat it ALL the time! I love it! I am not a fan of repeat dishes. Ask hubby. I like to have new stuff and hardly EVER eat leftovers. So for me to make this a couple times a week is HUGE. I have modified the recipe as well. I have played around with any combination of vegetables. I always use onion and add green beans, yellow squash, zucchini or corn. Pretty much any combination has been a winner. I have occasionally added bacon too. It is pretty darn awesome with bacon and cheese. Now the bacon I use is precooked. I just microwave it and toss it on top so I saute my veggies in olive oil. LOVE IT! Thank you www.glutenfreehomestead.com!
http://www.glutenfreehomestead.com/2013/07/bacon-corn-and-zucchini-saute/
Disclaimer: I am not compensated in any way. I just like to share quick awesome recipes. Also, I am not a perfect vegetarian. Since I am gluten-free and have insulin issues I have found it a bit harder to eat. So I do occasionally toss in some meat (bacon and chicken).
Do you have any gluten-free recipes you want to share?