Weakness Wednesday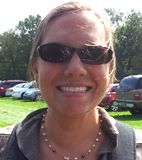 This seemed as good a day as any to start something new like a series…well maybe…let's just start with today.
I have social anxiety. There I said it. Yep. Me, Anna, the lady who would talk to ANYONE has major social anxiety issues. I have had this problem since I was a young child. I would be involved in our school plays or musicals and I would get so nervous that 9 times out of 10 I would come down with a fever and be too ill to attend the event! It was devastating. I became so predictable to miss the big event that whenever I was cast in a role, they always cast a back up for me! This weakness has plagued me for my entire life. It still pains me today.
Our son just celebrated his 5th birthday and my husband has been wanting to take our family to Splash Island in Plainfield. It is a really neat place but a swimming pool????? PUBLIC???? Talk about major meltdown for this mama. I have enough issues just dressing to go to the grocery store let alone a POOL! The sheer thought of donning a swimsuit made my blood pressure jump about 50 points! But once I am there and finally able to submerse myself in the NOW and the FUN, I always end up having a great time.
I have talked with the Lord many, many, many times about my social awkwardness. I have prayed and prayed for relief of my issues. I have held on to one verse to help me through most of my attacks – Phil 4:13 – I can do all things through Christ who strengthens me. I will repeat this verse over and over and over and really try to claim the truth that it holds. It has worked for me and I can get through it. But I have come to realize that I have larger issues…I won't even ask for help from someone out of fear of being judged…this even includes my dearest most best friend, my husband.
I have been feeling a tug at my heart that I need to join a Lifegroup at our church. This is a HUGE step for me. I am good at the surface social environment – chit chat and small talk – but I have built such strong and sturdy walls around the real Anna that it is very difficult to reach her. But I have taken the plunge with God's tugging and signed us up for a Lifegroup! Funny thing though…I put in my info almost 3 weeks ago…and still haven't heard back from my church! Ha! How is that for irony? That's okay. I think God may want me to REALLY want this and make sure I assert myself by following up. I am praying for the courage to do so:)
Today I had to really ask Jesus to direct my words and my steps…I didn't know what to do. We were leaving a park. There was a young woman who was very pregnant getting out of her car SMOKING. She proceeded to let 2 other small children out of her car. I wanted to storm up in her face and scream "WHAT IS WRONG WITH YOU??? DO YOU NOT KNOW YOU ARE KILLING THAT PRECIOUS LIFE INSIDE YOU???? DO YOU KNOW WHAT SECOND HAND SMOKE DOES TO LITTLE LUNGS????" But that was my flesh…I am thankful I had Abilene in my arms who was cranky to diffuse me. I continued to pack us up and realized I couldn't just stand by. I prayed right then and there for Jesus to guide me; give me the words and the means to approach this young woman. Jesus never fails. Aaron had the boys and they were heading back from a bathroom visit and decided to stop by the splash pad that this young woman and her kids were heading too. It was perfect. I grabbed Abilene back out of her car seat and headed over. I didn't just march up to her. I watched her. I watched her interact with her other kids. She seemed to genuinely care about them and wanted them to have fun. I was able to find a way to talk to her and asked her how much longer she had. She answered very kindly with stating her induction would be Monday. This would be her 2nd child. She had 1 daughter and she was about to have a son and she would be done. The other little boy with her was her nephew who had come to live with her for awhile – no more details on that. We chatted about babies and whatnot and then I brazenly asked if I could pray for her and her unborn child. I was surprised by her response. She said she would greatly appreciate that! So I prayed. I also told her I would be praying for her through delivery. So if you are reading this, please add this young woman to your prayer list. She needs it and wants it! I was so thankful that God calmed me enough to approach her with love not anger. She must know smoking is wrong (seriously, who doesn't). Maybe smoking is better than something far worse (drugs). Either way, I needn't say a thing. I just simply asked if I could pray for her and her baby and she welcomed it. Thank you Jesus for the courage and guidance!!!
Anyway, that is this week's Weakness Wednesday…anyone else care to share?