---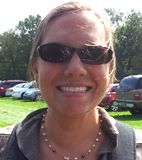 Please pray for us. All 3 kiddos are sick. Monday the diagnosis came back positive for RSV. It is a nasty virus that you can get over and over again. It causes respiratory issues; wheezing, coughing, labored breathing, retractions, and in some cases, tachypnea. Well you all know about Abilene's past. Please pray that she fights this off without a visit to Riley. So far she has responded well to breathing treatments here at home. But at any moment that could change. I am also sick with this virus and I would appreciate prayers for strength to tend to my family.
THANK YOU!!!
---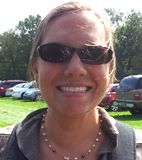 Yep. Today I entered into the world of 35-44. I am in a whole new demographic. I have filled out surveys off and on for years. I find them fun and enjoy the incentives but mostly I like knowing that I am helping to shape the future – one opinion at a time. Of course with 3 little ones, survey taking is on the super duper back burner but I do recognize that today marks a new category for me.
I actually think 35 sounds kinda old. I remember my mom's 30th birthday party and we went all out giving her a huge "over the hill" party. Of course 99% of it was my dad's idea (that is probably one of the reasons why they are no longer married). Anyway, it was black this, black that and just tonight I chatted with my in-laws and they did a similar party for my FIL but for his 40th. Well, my 40th is just 5 years away. That is relatively close. I don't feel CLOSE to being over the hill or even half way done with this life! I just got started! I have forewarned the hubby that NO over the hill stuff will be allowed until at LEAST my 50th (and the scary thing…that is only 15 years away!)
I celebrated my birthday today with my family. It was nice. They got me a sweet bunch of balloons, a lucky bamboo (with 3 shoots), a gorgeous hydrangea, candy (love me some candy!) and loving cards. My Dad stopped by in the morning and then he left to enjoy his retirement:) We planned to go out for lunch as a family but Mr. T (aka Abel) was not feeling the greatest. We stayed home for the morning and tried to salvage the afternoon by letting me run a couple errands (Kohls, Old Navy and Helzberg) with the whole crew in tow. We wrapped up the day by having a really nice visit with my in-laws. We enjoyed pizza and cake! How awesome is that?? They brought me a beautiful pink rose and it looks amazing on our table! We concluded our evening with what was to be a quick out for the kids (no naps) and we were planning on a game of UNO – my favorite! But alas, Abel couldn't stop the cough and it got so bad he vomitted everywhere – twice. And they were not back-to-back barfs – oh no. He had to have clean sheets and blankets for each episode. The laundry fairy felt like I needed a tish more to clean:)
Well, all is clean…Abel is trying to sleep. The baby is out; Ham is out; and my loving husband is shuffling the cards as I type!  We have been keeping score of this UNO game since 12/22/2008 – we had a log from 4 or 5 years previous to 2008 but it got lost somewhere.
I am off to enjoy a quick game of UNO before crashing into bed. Goodnight!
---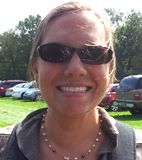 http://foodstorageandsurvival.com/taking-a-break/
and I TOTALLY agree with her in saying get back to being prepared!
---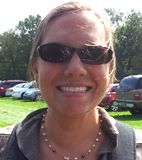 We are officially drawing the proverbial "line in the sand." We will have 1 final procedure for Abilene on Friday and should none of these tests prove anything, we are no longer going to pursue this "mystery" illness. Abilene is doing great and actually showing improvement! We are so blessed to have such a sweet and happy little girl. She is in no stress and we see no reason to continue to subject her or us to any more tests. We love her so much and we already feel robbed of some of her infancy that we do not wish to continue. It has been one crazy ride but we are officially done. We are leaving this (whatever it is) in God's hands. He is the great Healer – what more could we do?
Abilene's heart has been cleared. It is not the cause and/or contributing to her symptoms even though the Cardiologist would like to followup on her ASD when she is a year old. Fine.
Her CT scan showed collapse of her posterior lungs but it is far improved from her original CT scan. She may be outgrowing this? The pulmonologist is just as puzzled as we are. She is glad that Abilene is doing better but curious as to why her lungs look the way they do. So, we agreed to have her airway more closely examined via a scope on Friday. She will be sedated once again and submitted to this exam in the OR at Riley. Should this final test give us an actual diagnosis, then we will move forward with that. Otherwise, she is just a happy, sweet little girl who is growing and beating all the odds – so we will leave this alone.
Prayers for her continued healing would be greatly appreciated. It has been a trying time for all of us. I believe God has been leading us to this point for a reason…time to let go and give it to Him completely. Even in my daily devotional last night (just minutes after Aaron and I had this discussion) it talked about "doing the best you can but giving your kids to God." It doesn't get much clearer than that! I heard God's voice and now I am trying to obey.
Sorry for my lack of posts…life is…well, crazy to put it lightly. I have many things I wish to put on here for you all to read and understand where we have been over the past couple months. It has been an interesting road but I am tired and ready to SLOW DOWN.
– Be still and know that I am God. ~Psalm 46:10
---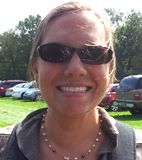 I know this blog has been tumbleweeds lately but we have been crazy (to put it lightly). I made a promise though (to myself) that I would get her 3 month post up today!
So, little Miss Abilene is 3 months old today! She is so sweet and by far the best baby I have had (stage for stage). We are in a great groove although I think she sleeps a bit more than I am comfortable with but who am I to complain? Her smile will melt your heart and she is just a jabberbox! She loves to coo at you and "talk" with you. She also has a favorite toy, Mr. Froggy. Man, she goes NUTS over him! Abilene is definitely a flirt. I have to keep my eye on her. She adores her daddy and brothers. She likes me but she is definitely different with them. I am just the milk maiden. The boys and daddy are barrels of fun! We are working on tummy time and that has been a bit tough since she absolutely HATES it plus she sometimes struggles for air and that makes me a bit apprehensive. Other than that we are totally on par for her milestones! At last weigh in and measurement which was just last Thursday, she weighed in at 13 pounds 9.6 ounces. She measured 23 1/2 inches. Her head was a ginormous 17 inches! Whew! This little lady is still tiny even though she is a big girl. She has been in 3-6 month clothing for quite some time now and even stretches into some 6-9 month clothing:) She is our joy and it is amazing to be her mommy! Here she is!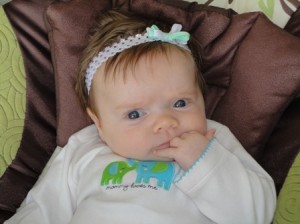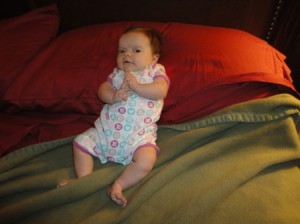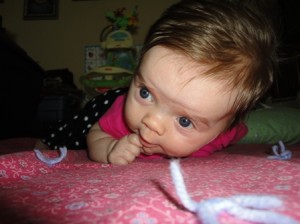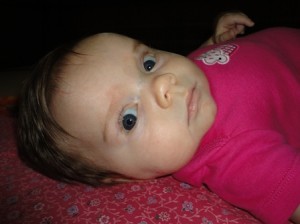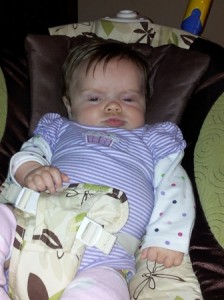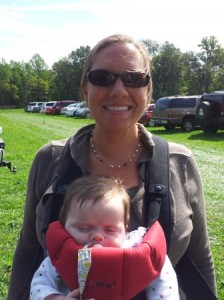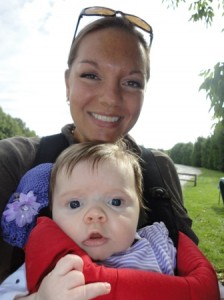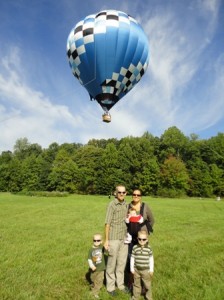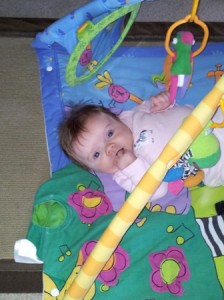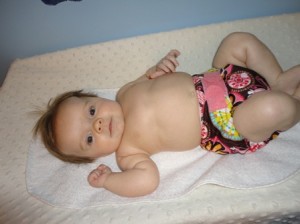 ---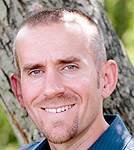 To be brief, the A-Team is back home. Details will follow in days to come, but for now let us say the FAA and Air Traffic Control are…
The Road Not Taken
by Robert Frost

Two roads diverged in a yellow wood,
And sorry I could not travel both
And be one traveler, long I stood
And looked down one as far as I could
To where it bent in the undergrowth;

Then took the other, as just as fair,
And having perhaps the better claim
Because it was grassy and wanted wear,
Though as for that the passing there
Had worn them really about the same,

And both that morning equally lay
In leaves no step had trodden black.
Oh, I marked the first for another day!
Yet knowing how way leads on to way
I doubted if I should ever come back.

I shall be telling this with a sigh
Somewhere ages and ages hence:
Two roads diverged in a wood, and I,
I took the one less traveled by,
And that has made all the difference.
---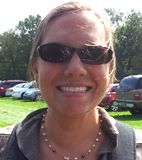 ---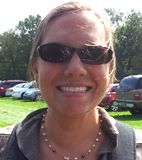 Now that my computer is up and running and I have gotten us pretty well settled here in OKC, I will be getting more posts up! Thanks for waiting!
---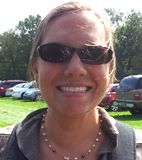 Goodness, how can she be 3 weeks already? Time sure is flying by! We even celebrated her first "first" holiday – Independence Day! Here are some pictures but pictures are so much fun!
We don't venture out much these days between the heat and my immuno-suppression going on right now (which affects Abilene). Hanging out at home has been tough but worth it for sure. Still trying to catch up on everything and get into the new "normal" for our family. Abilene still wakes to eat about every 2 to 3 hours so sleep is few and far between. That's okay. Life will go on! This mama needs to crash as the baby is now asleep. Goodnight!
---