60th Anniversary Jeep Memorabilia
Almost every special edition vehicle comes with a product line to help commemorate the release of the special edition. Jeep's 60th Anniversary Edition line of Jeeps is no exception. Below you can find the different products I have found that had to do specifically with the 60th Anniversary of America's most beloved 4×4 vehicle, the Jeep. These are the 60th-specific products that I am aware of. I own all of these, drop me a line if you know of one that is not listed.
---
Jeep OEM 60th Anniversary Floor Mats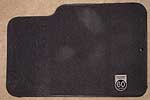 While the factory-original Jeep 60th Anniversary floor mats may not be an aftermarket product, they are worth mentioning here. Pictured at left is the driver's side floor mat out of my TJ, the XJ Cherokee and WJ Grand Cherokee are similar. If you click on the picture, you can see a full-sized photograph of the entire TJ 60th set. The embroidery work for the emblem is a tight stitch; resulting in a nice-looking and durable emblem. Many 60th Anniversary edition owners that I come in contact with say that their Jeep doesn't have these floor mats. I wager a guess that these people bought their 60th 'used' and a previous owner/dealer absconded with the 60th floor mats.
---
Zippo's Jeep 60th Anniversary Lighter


The Zippo brand is known for commemorative lighters for all sorts of things, a 60th anniversary for Jeep was no exception. The 60th Anniversary Jeep Zippo brand lighter has a brushed chrome case that has "A True Legend" & "60 Anniversary Jeep" engraved into the front side. It also has what appears to be a tire tread running top to bottom. They retailed for $36.95 when they were available, now eBay and Zippo collector's stores are the only places where you can find one. The truly unique feature of this limited Zippo was not the actual lighter, but the packaging in which it was shipped. As depicted above in the left photo the package was a stamped steel cylinder formed to look exactly like an oil filter. The bottom pops off and the lighter is inside snug in a foam insert.
---
Hallmark's Jeep 60th Anniversary Christmas Tree Ornament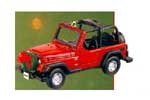 For the 2001 Christmas season, Hallmark designed a special tree ornament to celebrate 60 years of Jeep. It is Hallmark "item number QXI6362, Jeep Wrangler Sport 4.0L- 60th Anniversary Edition." The recommended retail price was $19.95. It has a removable wreath on the grill, front and rear license plates say "2001," and the spare tire cover says "60th Anniversary of Jeep." Although it isn't painted in the 60th Anniversary colors of Silverstone Metallic or Black Pearlcoat, it is still a nice addition to the 60th anniversary collection.
---
"60 Years of Tradition" Vintage Metal Sign/Artwork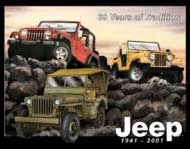 About six months after I bought my TJ, I was in the parts department at the local dealer and noticed this "Official Jeep" artwork for sale on the shelf. It is a thin sheet of tin that has the oil painting of "60 Years of Tradition" silk-screened upon it. It is 12.5"×16" in size with predrilled holes in the corners for hanging. The Jeep dealer was selling it for $15. I later purchased this on eBay for about $15 including shipping. You can find it in my house amongst the rest of my Jeep-related art that adorn my garage walls.
---
Page created on 1/10/2005
Last updated on 1/13/2005